The Speedo Mesh Bag is made of mesh that is perfectly ventilated. It is suitable for transferring swimming training aids. The bag can be worn on the back with the side straps. On the front there is also a small pocket with foil for a name tag. The Speedo Mesh Bag has a size of 66x48 cm with a capacity of 35 liters. It is 100% synthetic material.
This bag is available in several colours with Speedo logo on the front.
Swimming equipment is not included in the package. We sell the bag without content.
Having a mesh bag for the swimming equipment is a must for every swimmer, I'm not afraid to say that even a necessity. The times when you went to the pool and the swimming aids always fell from your hand are gone. Remember? Before you picked up your fin or a bottle, the pull buoys or the paddles fell from your hand, a kind of nightmare :-) That's why I have some equipment on Friday for this spacious mesh bag from Speedo.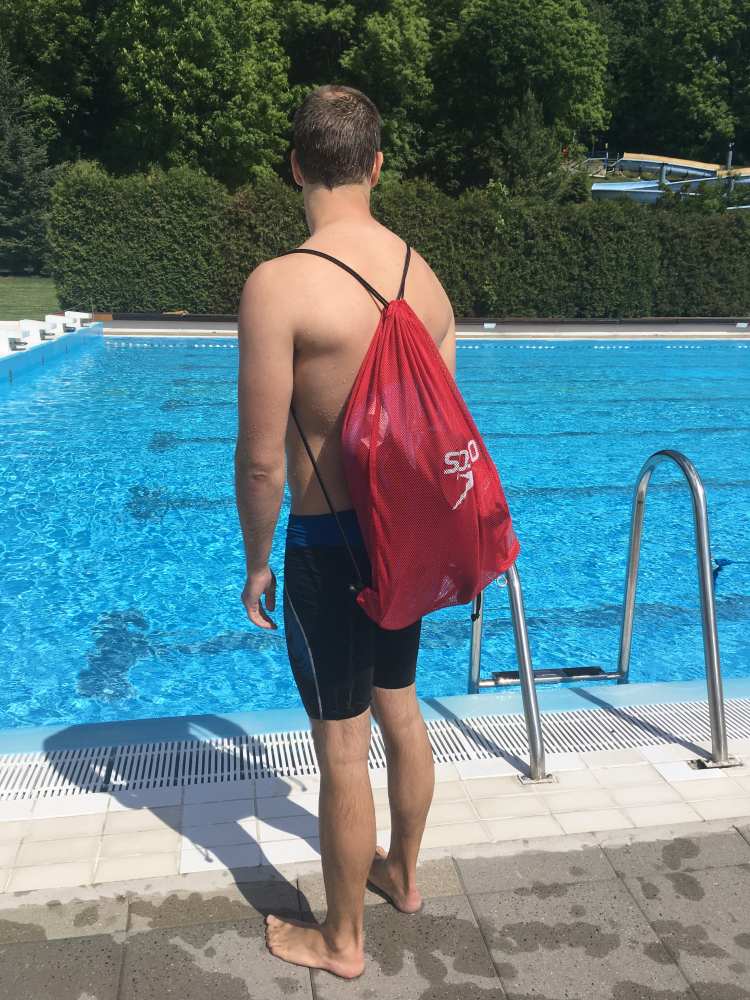 You can put the whole equipment into the large mesh bag.
Why is the mesh bag such a great helper? It is well breathable and the can aids dry out in it. So I can put them wet in the mesh bag and put them in the cabinet, where they dry well to the next day. If I do not leave things in the pool, but take them home, I'll hang the whole bag in the bathroom.
During my workout, I have a mesh bag right next to the pool and my aids are at hand in one place, so they are not confused with other swimmers' or their forgotten aids when leaving the pool.
The mesh bag is really big and with a capacity of 35 liters it can fit everything you need - fins, towel, big board, pull buoy, front snorkel, paddles and other swimming aids. There's really a lot of places in it.
You can easily adjust the length of the strap with a pull-down roller
Close the bag by tightening the two cords to create the straps for wearing the mesh bag on the shoulders. You can adjust the pull-down rollers at the bottom.
The mesh bag closes by pulling the cords.