Speedo Fastskin Pure Focus Mirror are new racing swimming goggles, which at first glance attract people with their beautiful appearance, subject to high requirements for their hydrodynamic properties - i.e. the lowest possible resistance in water. These are the best racing swimming goggles from the Speedo brand and also among the best in the world. They were developed in cooperation with the best swimmers. Compared to older Speedo Fastskin3 Elite mirror goggles, Speedo Pure Focus goggles reduce swimming resistance by 5% and the anti-fog layer lasts twice as long. A UV filter is a matter of course, so the goggles are great for outdoor swimming as well. The case for the swimming goggles is made of plastic, looks beautiful, opens easily and serves very well to protect the goggles.
The glasses have amazing peripheral vision, so you can see your opponents in the other lanes without turning your head unnecessarily. I also like low profile mirror glass. The outside of the glass is green, while the inside is beautifully purple. It was unusual for me to see through a little purple glass at first, but then I was intrigued and I really liked it. There is a meter on the silicone bifurcated strap to hold the glasses as well as possible and to sit on your face. According to it, you can easily adjust the tightening, because some swimmers have more tightened goggles during races, so all you have to do is tighten the goggles once as you like. You will remember the number on the meter and you don't have to tighten the strap just to feel it.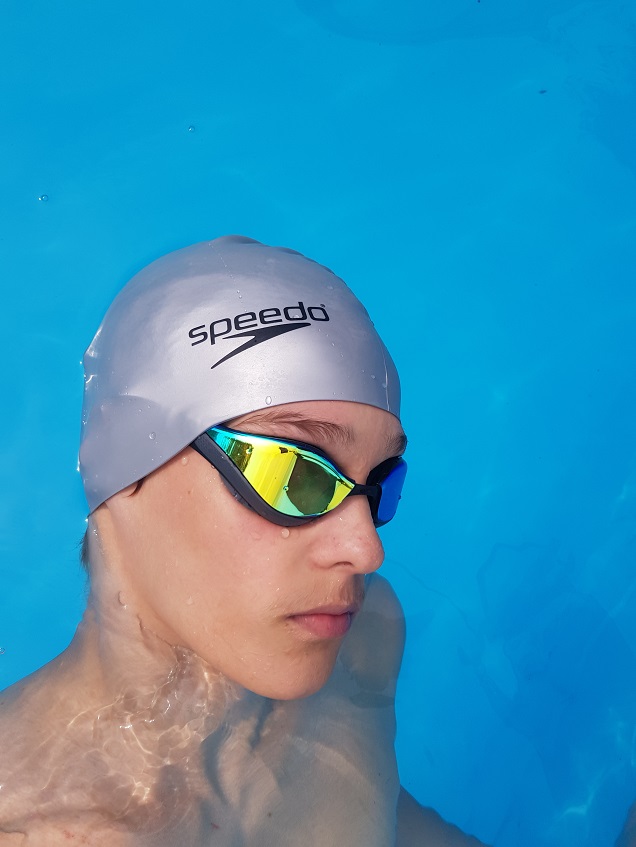 The Speedo Fastskin Pure Focus Mirror glasses have three different sizes of beams, they are beautifully replaced by a slight pull downwards. It's the easiest and most advanced way I've come across with racing goggles. The glasses have "legs" on the side for the better stability of the glasses, highly similar to those of the Arena Cobra Ultra Swipe glasses. I like it very much and I'm very happy with it. The goggles also have an IQ Fit and will fit most swimmers perfectly. This technology takes advantage of taking samples of the faces of a large number of swimmers and creating the shape of the goggles to fit as many swimmers as possible.
They are very comfortable and fast in the water, which corresponds to Speedo's slogan of "The next fast generation." These glasses fit beautifully, they look luxurious in the water, I fell in love with their glasses and the minimalist beam, which is a great replacement. I was excited about them and they are among my favorite racing swimming goggles I have tried so far. I would recommend Speedo Pure Focus to racing swimmers, but also for those who want to have the best and highest quality goggles on the market and care the most about appearance and comfort.
Why choose Speedo Fastskin Pure Focus Mirror?
- It is among the best racing swimming goggles
- convenience thanks to IQ Fit
- a luxurious look
- hydrodynamic shape
- mirror glass
- very comfortable beam
- antifog lasts twice as long
- peripheral vision
- meter on bifurcated silicone tape
The IQfit technology is based on years of research. It is designed to ensure that the glasses perfectly fits to the shape of the head. The sealing perfectly fits and makes almost no pressure on the face, so you will not have any strain after swimming. This technology maximizes comfort and minimizes water resistance.
Fastskin is a label for Speedo products that are designed for the best hydrodynamics in water. It's a swimming equipment designed for racing and performance swimmers to reach the most optimal performance. In the Speedo Fastskin range you will find complete equipment. The main ones are, of course, swimwear, goggles and caps that are homologated by FINA, but you can also find training equipment like kickboards, hand paddles and fins. The main success of these technologies is that Speedo carried out a 3D scan of elite swimmers and, through computer simulation, then conducted research and calculations on the resistance and durability of materials.
Designed in universal size for adults.

UV-filter absorbs dangerous UVA and UVB radiation, which can damage your vision. The goggles with UV-filter are suitable for outside and inside swimming.
These goggles have double antifog layer, so are more durable and last longer than classic ones. Antifog is an antifog layer inside the eyepieces. This layer significantly reduces glare. We recommend that you wash your swimming glasses with clean water after swimming and, before putting it into the case keep your goggles dry completely. Do not wipe your goggles with any handkerchiefs or touch them, damage the anti-fog layer, and the goggles will become foggy.
The eyepieces have mirror adjustment so that they can be used even in outdoor swimming without any problems. Mirror-colored goggles provide protection against sunlight and glare, but it's also a design issue.

Swimming goggles have a double straps. This type of tape is designed as one long elastic band, which is doubled. Its advatage is that it fits to the head better, you can put one strap above and one below or set each of them according to your needs. The great advantage of these straps is that even if they are torn they can easily be replaced by new ones.

The goggles have an exchangeable nose bridge. The nose bridge can be removed and replaced for longer or shorter ones. You can determine which length best suits you and adjust your swimming goggles according to your requirements and shape of your face.
It is designed as unisex.

There are 3 sizes of exchangeable nose bridges available.
The package includes a solid protective goggles case. It protects your glasses from scratches. The protective case also ensures the goggles' safe transport.
Approved and certified by the International Swimming Federation FINA (Fédération Internationale de Natation). It meets all international standards and allows start at prestigious races.