Fins are definitely an important tool that should not be missing in your equipment. They make your training more entertaining, help you swim at higher speeds, improve leg strength, endurance and ankle flexibility, which Michael Phelps, for example, had really excellent, and fins helped him a lot. You will also remember his incredible work underwater when he was overtaking his opponents undulating. You'll even learn to kick upwards better, you'll have better body position, you'll be faster and swimming with fins is just plain fun. When you use your motor, your legs, your body will get higher and you'll feel like you're gliding through the water. It's a great feeling.
With our fins you can train your technique, you can do fast intervals and give your body a good workout or you can improve your undulation, which is very important in swimming.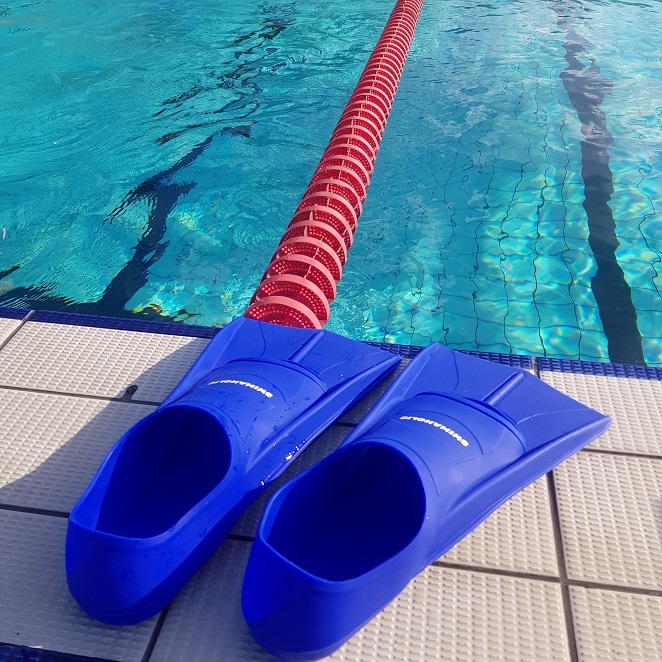 I was really looking forward to this review because these are our Swimaholic fins. Let's take a look together at what they are like.
In the water, the fins felt light, comfortable and look amazing on the legs. I like the simple blue design with the Swimaholic lettering in the middle.
Although the fins looked very wide for me, the material will accommodate a narrower foot and I was really satisfied with that. When swimming, everything fit as it should and the heel did not slip out of the fins. This is very important when choosing the fins.
The thing that didn't fit me so well was the stiffness. The fins could have been a little stiffer, as I'm used to the fins with hardened blades and to the feeling of a more dynamic kick. Still, I enjoyed swimming with them and gave myself a good workout. These fins would be an absolute perfection if they were made from thicker material around the foot for better fixation and rubberized sides on the bottom so they can bounce off the wall without slipping. I must highlight the non-slip grooves on the underside. Their function was beyond perfect.
The fins are really comfortable and I could swim longer series with them. There are no rough ends anywhere on the fins that would grind on your foot. You can use the fins in the pool, but also in open water. Swimaholic fins will now definitely take up space in my mesh bag because swimming with them is worth it.
Finally, I would like to mention that the fins are soft and therefore both beginners and more experienced swimmers can swim with them without any worries. They are lightweight, comfortable and can really be handled by anyone. Women, men and juniors can choose, because the fins are available in many sizes.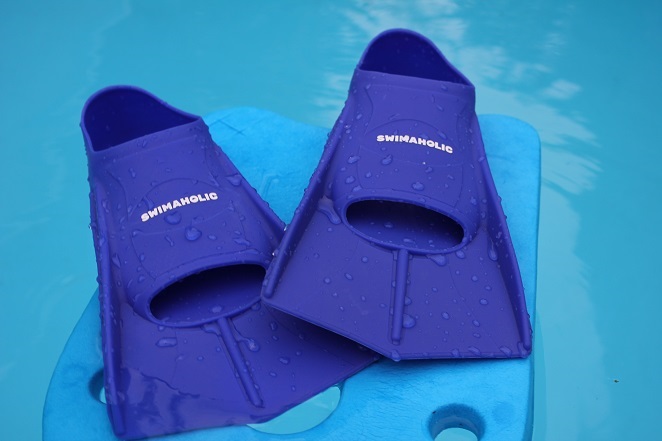 What was I most satisfied with?
- The look
- Improved kick technique, body position and better ankle flexibility
- Improved leg strength and endurance
- The fins give you a good kick
- Increased speed
- Comfortable material
- Small portable fin bag
- Fins adapt beautifully to the foot
- Fast, fun swimming
Material is 100% silicone - Silicone is a very elastic and longlife material. After use, it is recommended to rinse under running clean water and allow to dry thoroughly.
| | |
| --- | --- |
| Size | Foot size |
| XS | 33/35 |
| S | 36/38 |
| M | 39/41 |
| L | 42/44 |
| XL | 45/47 |