The Finis Alignment Kickboard has a hydrodynamic shape. The board helps the swimmer to maintain the correct position of the body. Thanks to the strap, you can easily control the board without having to hold it on the edge. The board has an ideal dive. It's designed to keep your hands together horisontally while swimming. The body is in one line and the front half of the body is not lifted. The board is made of foam material which is very lightweight and thanks to chlorine resistance it has a long life. The smaller shape of the board and its position on the water surface reduces the pressure on the swimmer's arms.
When using a snorkel and the kickboard at the same time, it encourages you to balance the position of the head and focus on the right technique.
The smooth hydrodynamic shape is safe for the back and is suitable for training the current line, underwater and side kicking.
Strap of the Finis Alignment Kickboard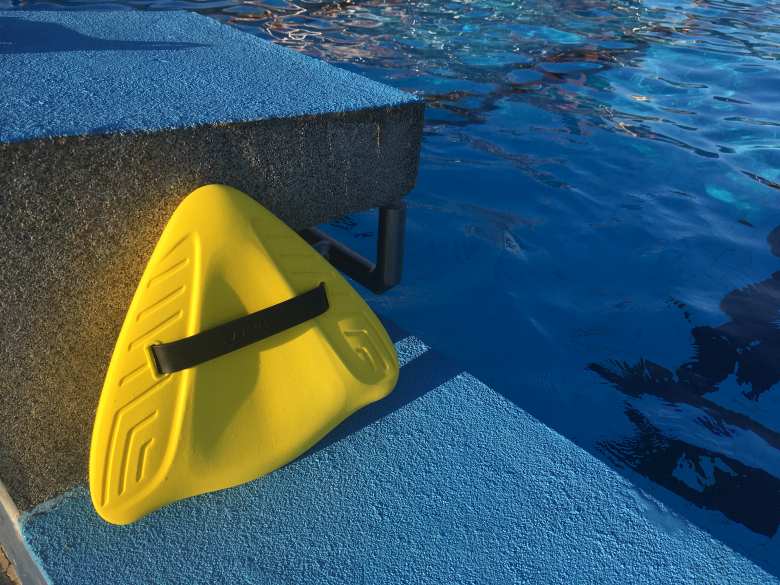 The Finis Alignment Kickboard is a very interesting equipment. Swimming with a classic board is part of everyday practice, so why not try this novelty from Finis.
The pad has a rubber band that holds my hands and which has become a great helper, especially when turning. In breaststroke, I do not have to flip over the board to hold it with one hand because the hand is still fixed by the strap. Also, when rotating, the plate is easy to manipulate with. The borar also encourages me while doing a few somersault twists, freestyle swimming and then push and put the other hand under the band immediately and continue to practice the right foot technique.
The difference from the classic big swimming board is mainly the size. At first, I was afraid that the plate would have a little buoyancy, and would dive while crawl foot training. Concerns were totally unnecessary, as the board had served its function at the best I enjoyed swimming with the board, and I forgot about the length of the pool. The turns were so easy that you can fully focus on training and improving your foot technology.
The board measures at the widest point 320 mm and at a height of 280 mm. These small dimensions are an indisputable advantage, and everyone who does not want to carry a large board is appreciated because the Finis Alignment board also fits into a smaller backpack.


In conclusion, I would add that this board is suitable for swimmers who have at least some technique and swimming position and want to train mainly the lower limbs. For the beginners who want to train their arms, breathing in water and other exercises, I recommend a classic big board that is bigger and more stable.
EVA material (ethylene vinyl acetate) - This foam material is flexible, elastic and light. It is very durable, waterproof and is also resistant to UV radiation.