Aqua Sphere Snorkel Focus is a beautiful training front snorkel, thanks to which you will improve your technique, swimming position and increase your lung capacity, and that's always useful for swimmers. You remember the iconic swimmer named Michael Phelps, who crushed his opponents thanks to his amazing underwater butterfly kick and gained valuable hundredths in the race. The other swimmers were already swimming on the water surface, while Phelps was still underwater. The underwater butterfly kick is faster than swimming on the water, and swimming with a snorkel helped him with that.
This snorkel has a unique low-profile shape that reduces water resistance and makes breathing easier. You can swim with it easily.
This snorkel has a wide quality valve, but when I compared it with the popular slim Tyr Ultralite Elite Snorkel the exhalation was harder. After the flip turn, I wasn't able to exhale water out of the snorkel at once. The other small disadvantage is the mouthpiece, which is a bit bigger, but it's a trifle and on the contrary, it may suit someone.
I must highlight the great hydrodynamic shape, even after a fast flip turn, the snorkel didn't move and, it stayed attached to my forehead. This is probably because of the stronger and longer forehead attachment which wasn't clenching me at all.
Those who drink water during training (even though we are in the water, I recommend it), may be wondering how to drink with a snorkel. Simply remove the mouthpiece with your hand or mouth and slide the water bottle opening to the side of your mouth. Then you can drink without any worries and continue with the training.
I like the black-green combination, which I think, describes Michael Phelps brand the most. In our offer, you can also find blue, dark blue and black-orange colour combinations. As for adults, the Michael Phelps brand made sure to take care of juniors as well, and you can choose the same colour combinations but in a slimmer and smaller size.
Why should you choose this snorkel?
- Low profile shape
- Beautiful design
- Comfortable and convenient
- Increased lung capacity
- Quality workmanship
- Durability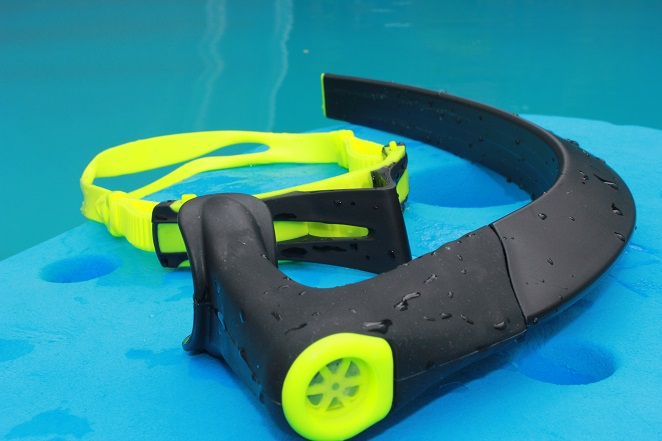 A few tips in conclusion:
If you're just starting swimming with a snorkel, you can use a nose clip to prevent water from getting into your nose. Inhale smoothly before the flip-turn and exhale through your nose during the entire flip turn, unless you have a nose clip. Then, all you need is a nice streamline, butterfly kick and when you're above the water (don't try to inhale until you're sure your snorkel is above the water), inhale and you can continue with swimming.