Aqua Sphere Alpha are swimming training fins. You use the fins for swimming at higher speed, improving endurance, and even flexibility of the ankle. For example, these fins helped me the most in improving the crawl. You can concentrate better on the leg and feet position and after the flip-turn, your legs will automatically go back on the water surface to start swimming again.
Many swimmers know how to kick downwards, but thanks to these fins you will understand that even kicking upwards can help you move forward.
With these fins, you can improve your technique, swim short-distance sprints, improve your butterfly kicks under the water, or you can swim with them just to try out something new.
Aqua Sphere Alpha fins differ from other fins because of their shape, appearance, weight and material. The fins are very unique and interesting. I was most suprised by the weight, they are really light. They weigh 70% less than other clasic training fins. And that is a huge difference.
These fins literally force you to improve your technique, but on the other hand, compared to other fins, fast-swimming is harder.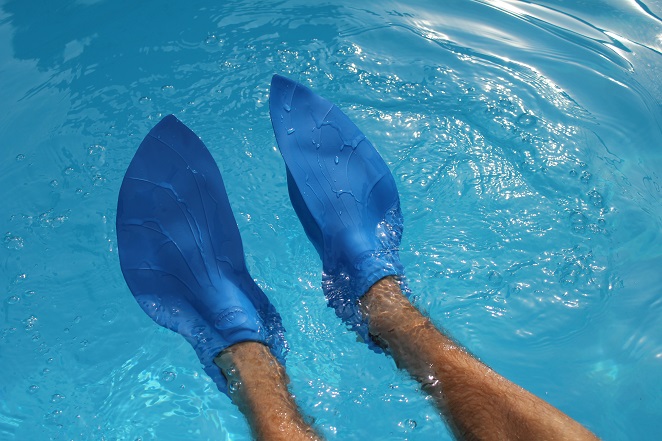 Interestingly, Aqua Sphere Alpha fins are more suitable for breaststroke than classic training fins. Their shape is a bit like an elongated foot and you don't even notice that you have them on your feet while swimming. On the other hand, because of their unique material, it's a little bit harder to take them off after swimming.
The fins are made from EVA material, thanks to which they are more than comfortable on your feet, and you don't need to worry about losing them - they float on the water.
When I first swam with them, I was excited and pleasantly surprised. Even though the fins are light and relatively soft, I was able to swim nicely. The material is pleasant, just at the beginning, until I got used to them, the open heal bit rubbed my feet, but it stopped after a few meters and I didn't even notice that I have them on. I have a narrow leg and I can tell you these fins suit me really well.
You shouldn't walk with fins around the swimming pool or on the dry surface. You can put the fins on your feet on the edge of the pool or when you are in the water.
The only downside is that the fins may not last long due to the very light foam material, so, therefore, longevity is their biggest disadvantage.
I recommend Aqua Sphere Alpha fins to recreational swimmers, beginners, but also advanced swimmers who want to focus on their technique. They are light, pleasant and you will enjoy swimming with them.
Warning: if you are looking for fins purely to build leg strength and improve performance, the Aqua Sphere Alpha fins are not the right choice for you, in that case, you would rather enjoy swimming with Aqua Sphere Microfin fins, for example.
| | | | | | | | |
| --- | --- | --- | --- | --- | --- | --- | --- |
| Size | XXS | XS | S | M | L | XL | XXL |
| Children | 2-4 | 4-6 | | | | | |
| Men | | | 6-8 | 8-10 | 10-11.5 | 11.5-13 | 13-14 |
| Women | 4-6 | 6-8 | 8-10 | 10-12 | 12-13 | 13-14 | |
| International | | | | | | | |
| EU | 33-35 | 35-38 | 38-41 | 41-44 | 44-45.5 | 45.5-47 | 47-48.5 |
| UK | 1-3 | 3-5.5 | 5.5-7.5 | 7.5-9.5 | 9.5-11 | 11-12.5 | 12.5-13.5 |
EVA material (ethylene vinyl acetate) - This foam material is flexible, elastic and light. It is very durable, waterproof and is also resistant to UV radiation.