Are you wondering how to choose the right swimming goggles? In our column, you will learn how to choose the right ones and what are your options when choosing goggles. There are many swimming goggles out there and the choice depends on personal preferences, it's not easy, but from our experience, we will describe and select the most popular specific models with which we have the best experience.

We can choose swimming goggles by colour
The colour of the eye lenses is the first thing that we notice on the goggles. However, it's not only because of appearance, it's also because of its function. Some of them make the view clear in the water, and some of them, on the contrary, dim the light, therefore, each colour has its function.
1. For indoor swimming clear or light-coloured eye lenses are more suitable. Their advantage is that they provide a clear view without colour destruction and they are suitable for swimming pools where the light isn't strong. Some people aren't choosing the clear goggles because of their aesthetic looks but because of their versatility. You will do yourself a favour if you choose them for indoor swimming.
2. For swimming in outdoor pools or open water, darker eye lenses are more suitable. Preferably smoky, mirrored or polarized, which dim the sunlight and do not strain the eyes.
3. Are you swimming indoors and outdoors equally? Well, in this case, if you own just one pair of swimming goggles, you can use the clear ones outdoors or the smoky ones indoors but the comfort will be limited. If you are swimming with darker goggles in the morning inside, when the lighting is weak, or if you swim outside when the sun is strong, can make swimming unnecessarily unpleasant. Therefore, we recommend having goggles suitable for both variants.
We can choose swimming goggles according to the purpose
1.
For recreational swimming
, the most important thing is comfort and wide vision. If you don't know which goggles to go for, you will not make a mistake if you choose larger ones.
Goggles for recreational swimming
that we tried and are happy to recommend are, for example,
Aquasphere Kaiman
and the
Speedo Flexiseal
. They both come in larger and smaller sizes so that they can fit women and men equally.
2. Swimming goggles
for competitions
are often smaller and have a low profile to minimize the resistance in the water. Some race goggles have little or no seal at all, these are called "Swedish" goggles, and it takes some time to get used to them. At the top of the competition swimming goggles are the
Arena Cobra Ultra Swipe
and the
Speedo Fastskin Pure Focus Mirror
, just under them is the
Speedo Fastskin Hyper Elite Mirror
. The popularity of these racing goggles is also indicated by their quality.
3.
Triathletes
need a wide vision so that they can be aware of their surrounding. Therefore, triathlon goggles tend to be large with extended peripheral vision. At the same time, these goggles must be durable with a soft seal to withstand a possible collision with another competitor. Due to open water use, they often have smoky, mirrored or polarized eye lenses. The
Aquasphere Kayenne
goggles are outstanding in this category.
4. With
prescription goggles
, swimming is so much better. Being able to see clearly underwater with prescription goggles is life-changing for many people who have trouble seeing without dioptric glasses or contact lenses. The selection of
prescription goggles
is smaller, but in any case, we are glad that the leading companies took into account the needs and this option exists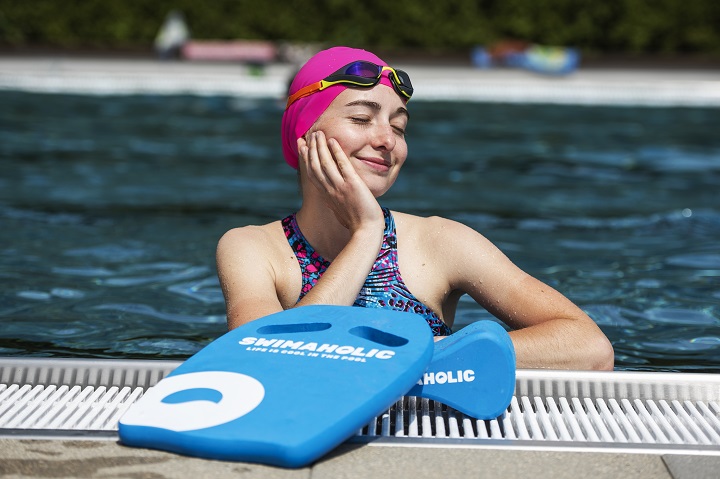 We can choose swimming goggles according to age and gender
1. Most swimming goggles are
unisex
, they are suitable for both, male and female swimmers and that's thanks to their adjustable nose bridges and straps. However, some swimming goggles have fixed nose bridges and it can happen that classic-size goggles will not fit women's smaller faces, so instead they can find the same model of swimming goggles in a smaller size. They have smaller eye lenses so that they can seal better into the eye sockets. Very often
women's fit goggles
have split straps to hold better the ponytail or the bun. Last but not least women's swimming goggles tend to fave a gentle feminine design with brighter colours.
2. We differentiate
children's swimming goggles
according to age into categories of
2-6 years
and
6-14 years
. Goggles for the little ones are designed to fit their small faces. They are a bit wider so that they don't press hard their eye sockets, but made of soft silicone so they don't let any leakage into them. On the other hand, they are made from durable materials so that they can withstand children's water games. Very popular are the
Swimaholic Danube goggles
, which cover all around the eye sockets and seal very well.
Final tip:
Even if swimming goggles have an anti-fog layer they will start fogging sooner or later. It depends on many factors, such as water temperature, body temperature, sweat, and the temperature outside, but we still recommend reading the article on how to look after your swimming goggles so that they can last as long as possible.
If the swimming goggles don't fit try to adjust the nose bridge (the middle piece between the eye lenses) and exchange it for a smaller/larger one if they are adjustable. The strap can also be regulated very well tightening and loosening to the most comfortable size. Don't put the straps right behind your ears, try to move them higher towards the top of your head, and see what is the most comfortable way to wear your swimming goggles without fear that they will leak some water or fall off in case you jump in the water.