The short training fins Emme must not miss any swimmer. A very popular training aid for swimmers and their coaches. The flippers are easy to store and fit into each bag. They are made of 100% silicone.
The Emme training fins is suitable for practice swimming techniques, fitness training or to enhance swim training.
Fins are suitable not only for swimmers or triathletes, but also for beginners. They greatly help swimmer to keep the correct position, increase the speed of swimming and help to realize the flow of water.
Size chart for Emme Training Fins
| | | | |
| --- | --- | --- | --- |
| Size EUR | Size UK | Size USA | Size of the foot in mm |
| 31,5/33 | 12, -1 | 1 -1,5 | 200-210 mm |
| 33/34 | 1-1,5 | 3-4 | 220-225 mm |
| 35/36 | 2,5 -3 | 4-5 | 230-235 mm |
| 37/38 | 4-5 | 5-6 | 240-245 mm |
| 39/40 | 5,5-6,5 | 6-7 | 250-255 mm |
| 41/42 | 7-8 | 8-9 | 260-265 mm |
| 43/44 | 8,5-9,5 | 10-11 | 270-275 mm |
| 45/46 | 10,5-11 | 12-13 | 280-285 mm |
| 47/48 | 11,5-12,5 | 14-15 | 290-295 mm |
I have a lot of experience with the Emme training fins because I have been using them fifth season. How did I like the swimming with them, why did they last so long, and why did I just put these fins among my favourite equipment?
Thanks to the silicone material the short fins by Emme are beautifully soft and even after longer swimming my ankles do not hurt in them, as it sometimes happened in case of harder fins. The fins are in one piece and therefore the shot is pleasantly spread over the entire surface of the fins. The resistance and frequency of kicking are adequate, so it is suitable for hobby swimmer as well as the more experienced. The fins are available in small sizes, even for children.
So how to preserve the fins? ;-) The training fins of all brands often happen to burst at the point of the fin or the foot part, which can often be avoided. Remember you should not walk in the fins! Firstly, the fins always should be taken on the edge of the pool while sitting. This avoids the first damage, namely breaking front part. Secondly, the fins should be take on wet! If you soak the fins just before you put on them, they are slippery and your feet slip into them. If you take on the fins dry, often help with a finger at the ankle. However, in this case the fin can crack in the place of the big strain.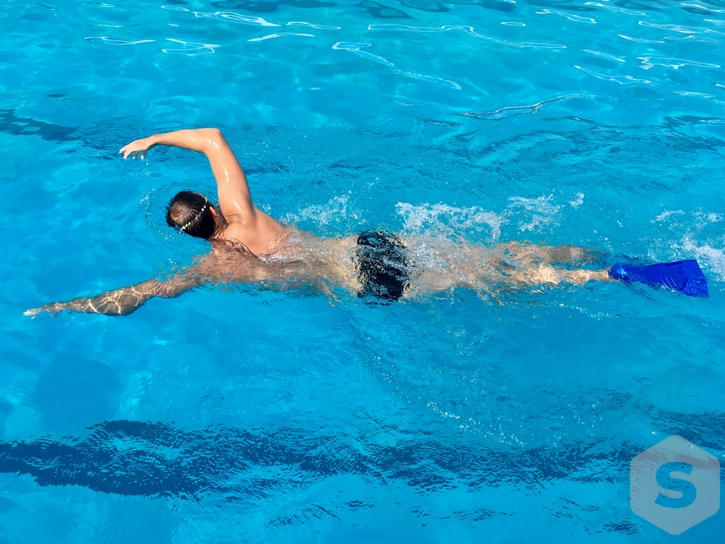 As long as you follow these simple principles, it will hold your fins in super condition for at least as long as in my case. The fins are suitable not only for improving and training, but also for making the trainings more interesting.
Material is 100% silicone - Silicone is a very elastic and longlife material. After use, it is recommended to rinse under running clean water and allow to dry thoroughly.