An expedition, like a week's long holiday, bags of all sizes and you are exhausted before you even set off. Taking the kids swimming doesn't have to be a stressful affair though. You just need to know what to pack and how to prepare them. And we would like to help you to enjoy these moments together with your little ones and not get bogged down in choosing swimming gear.
Baby by the water or in the pool
Taking the kids to the pool, lake or sea is a normal thing. However, every child has a different disposition and needs different amounts of time to learn to swim properly without getting into danger. The important thing is to respect each child and not force them to do anything. Even the slightest mistake can become a big problem and overcoming a bad experience is always a long run. Children's
aquatic aids
, such as
swimming belts
, noodles, life jackets and more, can help as crutches. Fortunately, today there are not only
sleeves and rings
available, so you can choose.
So far, non-swimmers
They are gradually getting acquainted with the water. They are gaining experience, but they need help. Times have moved on and so have the aids for children. Thanks to them, they will learn to swim and reduce their stress level when in contact with water. Probably the best aid nowadays is the swim belts in different sizes. These belts have the advantage of keeping the child afloat. The great advantage of these belts is that the individual pieces can be removed separately, so the child swims with less and less support.
Baby vests
are similar, the child feels even more secure and natural wearing one. Nothing gets in the way of movement.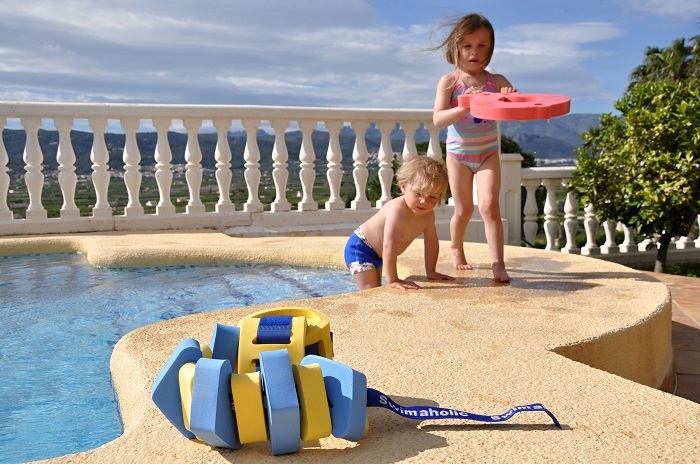 The popular sleeves are also still available in different materials and designs. For the smallest children (up to four years) who are scared, they are suitable. Compared to swimming belts, they are more compact. An interesting aid is the buoyancy rings, which are actually sleeves, but they do not inflate and are made of foam material. For the first contact with water, play is important. For example, water noodles or toys can be used to make contact with water more pleasant and natural.
Children who already know how to swim
When your child progresses to the level of a swimmer, it's always a great joy. It means that they have mastered contact with the water and can swim to some degree. As he or she progresses, he or she will need new equipment, such as new junior swimsuits, goggles, caps and other things that he or she will gradually use.
Girls' swimsuits
, which can be one-piece or two-piece, look like women's but are a bit smaller in junior sizes.
Boys' swimsuits
, on the other hand, can be bought in different variations. Durable shorts, swingy jammers or short briefs. You'll appreciate the durability and functionality of swimwear when your kids are not only playing in the water.
Speaking about children's
goggles
, it's important that they fit well on the face and also seal well around the eyes. Children will also appreciate the wide viewing angle, where they can see clearly in all directions. Just choose a colour or motif that they like or that matches their swimsuit. The swimming cap has its place in the equipment of a junior or child swimmer - it tames long hair and protects the scalp from burning.
Finally, it's important to remember that no matter how proficient a swimmer your child is, you should never leave them unsupervised around water.